The cookies from the websites that you have visited and the data in your browser's cache simplify the work in the Internet a lot and accelerate the loading of web pages.
If you still decide to clear cache and cookies, keep in mind that all your web settings (for example, saved usernames and passwords) will also be deleted. Websites might open slower than before, since all graphics will need to be reloaded.
Instructions:
In Chrome Browser
At the top right, click More.
Select More tools.
Click Clear browsing data.
At the top, choose a time range. To delete everything, select All time.
Next to "Cookies and other site data" and "Cached images and files," check the boxes.
Click Clear data.
In Internet Explorer
In Internet Explorer, select the Tools button, point to Safety, and then select Delete browsing history.
Select the Cookies and website data check box, and then select Delete.
To delete cookies in Internet Explorer 8
In Internet Explorer, select the Safety button, and then select Delete Browsing History.
Select the check box next to Cookies.
Select the Preserve Favorites website data check box if you don't want to delete the cookies associated with websites in your Favorites list.
Select Delete.
In Mozilla Firefox
Click the menu button and choose Options.
Select the Privacy & Security panel.
In the Cached Web Content section, click Clear Now.

Close the about:preferences Any changes you've made will be automatically saved.
Click on the Menu button, then click Library. Click History and then click Clear Recent History.
Set Time range to clear to Everything.
Click on the arrow next to Details to expand the list of history items.
Select Cookies and make sure that other items you want to keep are not selected

Click Clear Now to clear the cookies and close the Clear Recent History window.
In the Opera Browser
Click the Menu button on the top-left corner.
Click on Settings. Click on Privacy & security. Under "Privacy", click the Clear browsing data button.
Select from the drop-down form the period you want to clear the browsing data. Select Cookies and other site data, and Cached images and files options.Click the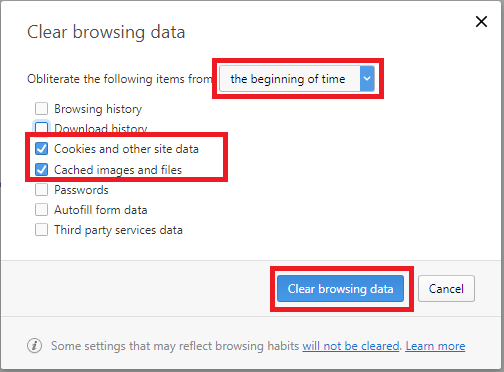 Clear browsing data button.
In Apple Safari Browser
Click on "Safari" menu ⇒ Settings ⇒ Advanced
Click Website Data ⇒ Remove All Website Data. Or click Details, select necessary websites and click Clear button.
Hint. If after deleting cookies and clearing the cache, the web pages begin to be displayed with errors, start the incognito mode in your browser. If the problem persists, the problem is caused by other reasons.
Instructions are taken from the supporting sections of the browsers official websites:
Google Chrome, Internet Explorer, Mozilla Firefox, Opera, Safari.
If that does not help, restart your computer and router.