There are two fundamental concepts in the service: contacts and subscribers.
Subscribers can be used for e-mail and SMS mailing. Only Call Center managers can work with contacts (as well as with subscribers, of course).
Subscribers can be:
unique ;
activated;
subscribed.
A unique subscriber is a unique mail in your subscriber base.
An activated subscriber is a subscriber who has agreed to receive the newsletter via a link in the email. This is a 2 opt-in subscription.
A opt-in subscriber is a subscriber who has not opted in to receive the mailing via a link in the mail. Such subscribers appear as a result of:
purchasing your products without having previously subscribed to you;
Transfer of your database from another service.
Contacts can be:
pending activation ;
subscribed (only smtp) ;
unsubscribed ;
unsubscribed by the service ;
nonexistent ;
plus all the statuses the subscriber has, because a subscriber is also a contact (but a particularly useful one).
Waiting for activation are possible subscribers, who haven't yet confirmed their consent to receive the mailing through the link in the letter.
Subscribers (only smtp) are those who subscribed through the subscription form with the "Sign up for newsletters" option unchecked. This status also applies to new contacts who completed (but haven't paid yet) an order at your store. Such contacts can only receive emails from the external smtp-server.
Unsubscribed are people who unsubscribed from the mailing list by themselves, were unsubscribed by you, or clicked on the "spam" or "unsubscribe" buttons.
Unsubscribed by the service are those unsubscribed by the activity check script. This script is disabled by default. You can read more about it here.
Non-existent is a subscriber whose mail service repeatedly reported that the mail does not exist or was unavailable when sending him/her a mail.
The "non-existent" status can be assigned to a contact for several reasons:
The contact really doesn't exist, which is confirmed by the mail service (address error or deleted address).
The recipient's mailbox is hosted at a Yandex mail service and was not used by the recipient for a long time. As a result, the mailbox is full and can't get any more mail.
Service recipient for a long time several times in a row does not respond to requests.
Some hosting companies that provide domain mail, may have a non-standard filtering of incoming mail and / or successfully simulate a down server.
Rarely enough, but nevertheless, there are situations where a contact exists but is mistakenly set to "does not exist" status. It's possible that the recipient had a long period in the service described in item 3. Or the user started using the mail again (the situation described in item 1 is the opposite). In this case at your request we restore the status of the specified contact.
Different statuses can be combined for the same mail. For example: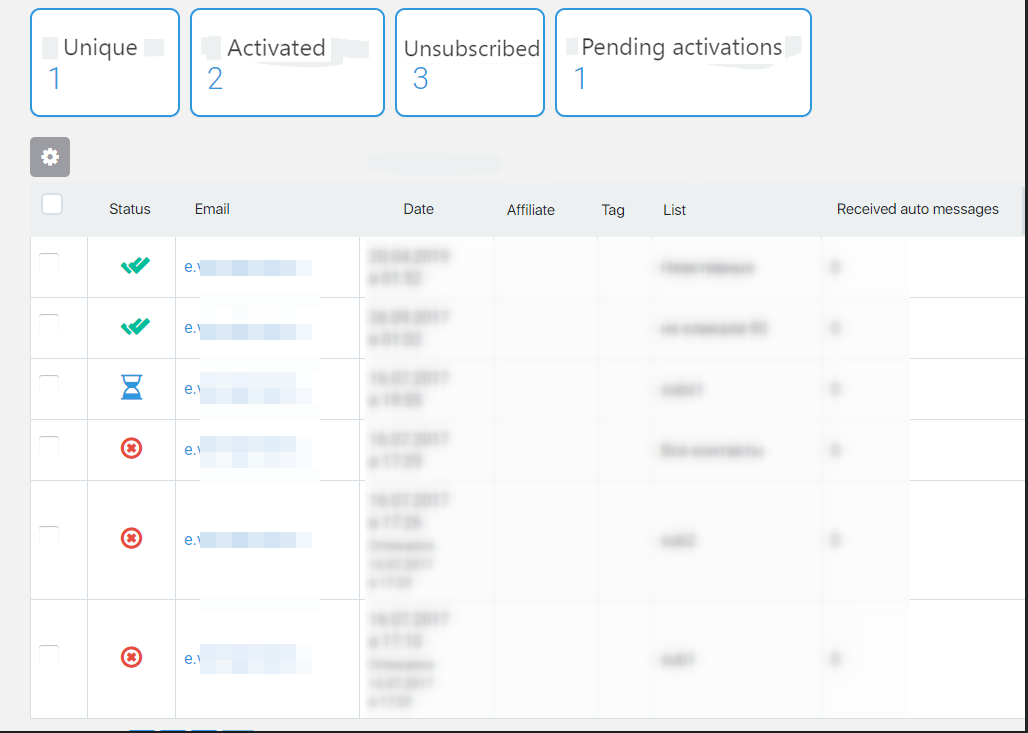 It is one mail, therefore unique – 1, subscribed to 2 groups, therefore activated – 2, in one of the groups subscription is not activated, therefore waiting for activation – 1, and from three groups unsubscribed, therefore unsubscribed – 3.
A subscriber may be a member of different groups. Different letter series and letter chains can be set up for different groups. If a subscriber does NOT want to receive some letters, but wants to receive others, he can unsubscribe from some groups.
At the same time, the autogroup does not repeat the status of the other groups and is not obliged to update it if it has changed in some other group. This is the logic behind designing autogroups.